Impacted by loss?
You are not alone.
We all face various forms of loss throughout our lives. Losses may include a loved one, our health, a relationship, or even the loss of our dreams. And when confronted with such losses, we need a path forward.
RESOURCES
Daily Mindset and Habit Tracker
Learn the importance of journaling and tracking new habits as you take the next step toward hope and healing. Additionally, you will receive powerful information on the importance of journaling when experiencing loss, so you can better understand how it can benefit your healing process.
Sign up below to grab your FREE worksheets today.
About Matt and Kari!
Matt and Kari were both married at 19 and spent their married life serving in church ministry. In 2015, life changed dramatically for both of them. Matt, a father of two girls, lost his wife after a battle with triple-negative breast cancer. Kari, a mom with five boys, lost her husband suddenly to a heart condition they were unaware of. They both found themselves navigating the challenges of grief and loss.
They met the following year and married in 2017. It was through this journey of loss that Grief to Growth was developed. They have coached hundreds of individuals on how to process their loss, find a new perspective, and then move forward with purpose.

They have developed a unique and transformational curriculum to help those impacted by the loss of someone or something significant.
LEARN MORE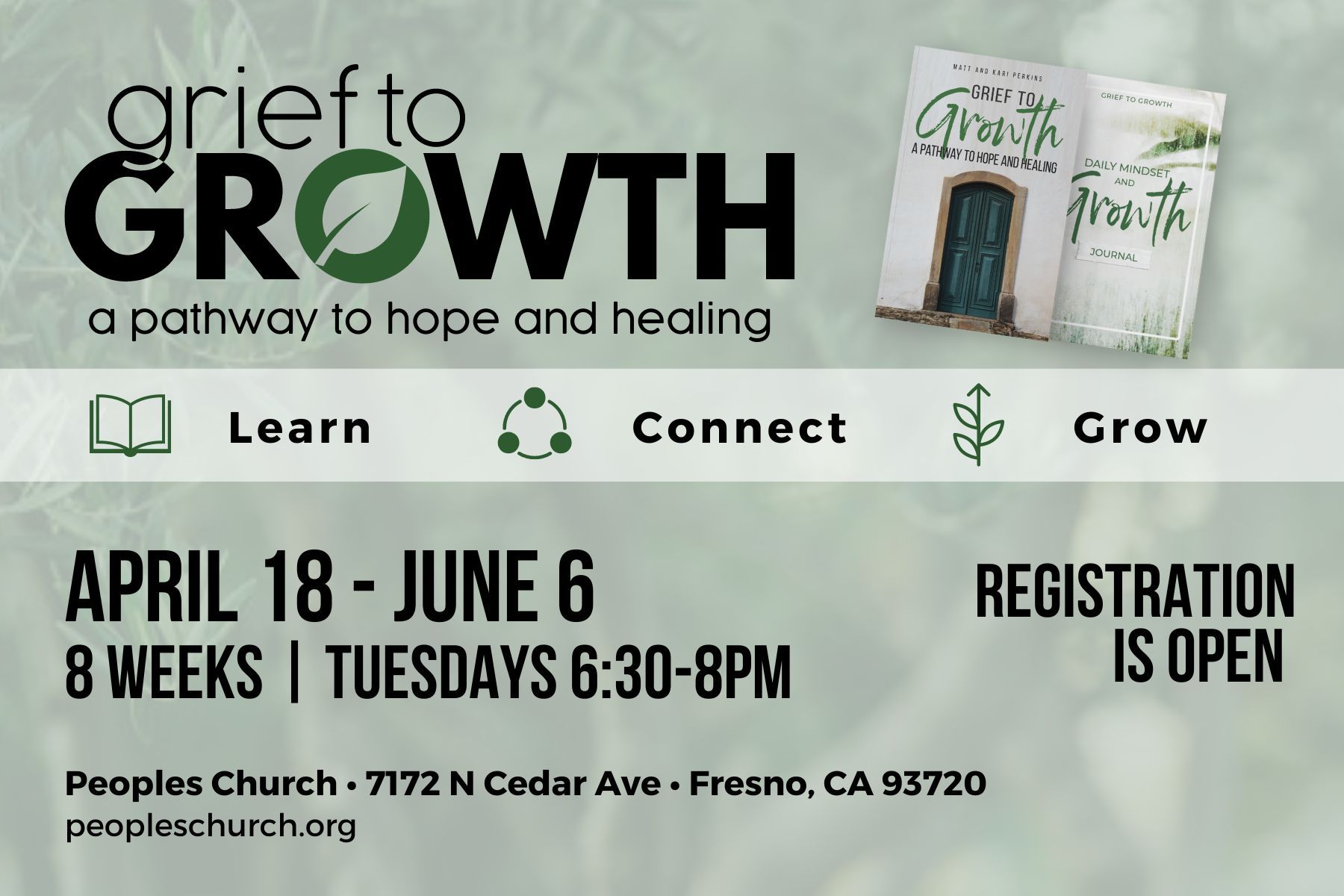 In-Person Session Starting April 18
Peoples Church | Fresno, CA
This is a one-of-a-kind 8-week program providing in-person instruction and a personal development plan tailored FOR YOU.
More Information
Learn • Connect • Grow
Needing Hope?
If you're looking for a way to navigate your journey of loss and move forward with greater strength and resilience, attending Grief to Growth™ could be the perfect solution. This powerful program has shown to be a life-changing experience for those who are impacted by loss.
YouTube Channel
Resources to Take the Next Step
We all have to start somewhere, and your time in space starts today! So let's begin...
In-Person Program - Fresno, CA
Are you struggling to move forward after experiencing significant loss? Do you feel overwhelmed and need help with the steps to take next? We understand that loss comes in many forms and the grief that follows. We're here to tell you that there's hope, and we have the solution you've been searching for.

Grief to Growth® is a powerful, 8-week program to help you skillfully navigate the treacherous waters of loss and guide you on a healing journey toward growth.
LEARN MORE
Grief to Growth Online
Grief to Growth Online ensures you never feel alone. No matter your location or schedule, the supportive and empowering environment immerses you, teaching you to process your loss and take the next step toward hope and healing.
Seminars and Events
Schedule Matt and Kari for a Grief to Growth™ Seminar for your church or organization. Their expertise and personal experience with grief and loss can provide valuable insights and guidance to those in need. Don't miss the opportunity to bring their message of hope and healing to your community.
SCHEDULING
Read What Our Participants are Saying:
"This content was so helpful..."
Prior to participating in Grief to Growth program, I was experiencing feelings of depression and hopelessness. However, during the course of the last 8 weeks, I have managed to take some positive steps forward and now I am beginning to perceive glimpses of hope.
– CAROL

"I'm learning to give myself grace..."
Initially, I was unsure of what to anticipate from the program. However, the comfort of being surrounded by others who could relate to my experiences motivated me to attend each week. At present, I am allowing myself to experience my grief and loss with compassion and understanding.
– MARIA

"This has given me a new perspective!"
The program has provided me with a fresh outlook on my grief, emotions, and self-perception in the midst of my brokenness."
– JEFF

Follow @mygrieftogrowth On Instagram